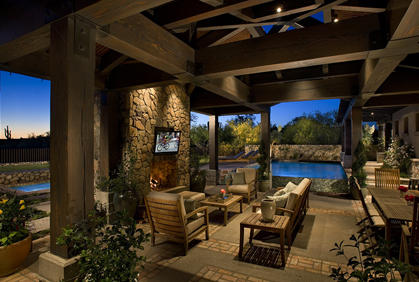 Outdoor living is becoming increasingly more popular. More than ever, home buyers are looking for outdoor kitchens, pools/spas, outdoor fireplaces, and open access to outdoor from inside living area.
Living in the Valley of the Sun, we've long been accustomed to outdoor living. Nowadays, people are upgrading from simple outdoor BBQ areas to full on outdoor kitchens, including refrigerators, sinks, and bars.
Simple pools are becoming grandiose with added color changing lights, jacuzzis, and water and fire features. In the newer pools, all of these features can be controlled by the owner's phone.
During the cooler months, outdoor fireplaces are extremely desirable. Depending on your budget, these can range anywhere from simple fire pit to an elaborate stone fireplace.
Whatever your dream outdoor living space is, you'll want to easily access it. Homeowners are achieving this through collapsible window walls. When open, one can "bring the outdoors in."
All of these features add value to your home – both while you're living there and if you're planning to sell.