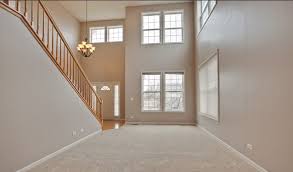 Unless the home is in pristine condition, selling a vacant home can be agonizing for the seller. One of the reasons for the agony is the cost associated with maintaining an empty home. These costs include, but are not limited to the monthly mortgage payment, the extremely high vacant homeowners' insurance premium, and utility and maintenance costs. Each month, the empty home is costing the owner a pretty penny.
Also, did you know that approximately 90% of home buyers are unable to visualize an empty home's potential? That means that if you're selling a vacant home, about 10% of people will be able to "picture" themselves living there. Think about visiting a new homebuilder's professionally decorated model homes. Right away, the colors and patterns appeal to your emotions and you can envision yourself living there. Now, take a walk over to an empty, undecorated model with the same floor plan. The Wow! factor is gone. For the majority of home buyers, the same holds true for vacant homes. You walk in and there's usually not much to draw you in. Moreover, the vacant rooms actually look smaller than when they're properly furnished. If you must sell your home vacant, consider hiring a stager at 1% - 3% of the sales price. This could result in a 5% - 10% higher sales price.
Another reason vacant homes may stay on the market longer is because buyers are focusing on every little flaw that is now exposed. Rest assured, when a buyer spots a single blemish or crack, they're on the hunt for more imperfections. Once an interested buyer is armed with their list of deferred maintenance issues, you can bet that they will deduct their cost for those repairs from their offer price. Their cost, by the way, will likely be much higher than what you could have fixed them for.
Finally, most buyers will automatically assume that there's more negotiation room because the seller must be desperate to sell. This may not be the case at all, but buyers may, mistakenly, offend the seller with a lowball offer.
Sometimes selling your home vacant isn't avoidable. If this is the case, consider taking the time to clean the house thoroughly, make necessary repairs, including repainting, if necessary. If your budget allows, think about hiring a stager to stage your home, allowing buyers to make that emotional connection. The small up front investment could add up to a sizable profit.